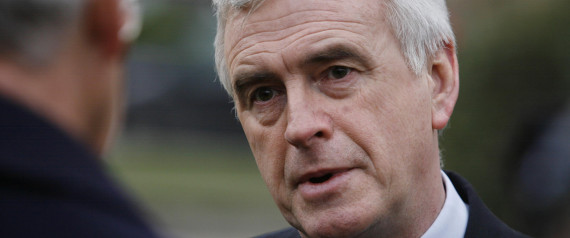 New Shadow Chancellor John McDonnell is to unveil his first policy today - a £10 per hour minimum wage, HuffPost UK has learned.
On the day that the Tory government attempts to slash tax credits by £4.4 billion in 2016-17, Mr McDonnell and new leader Jeremy Corbyn will declare a tougher stance of opposition.
Mr McDonnell will call instead for new higher rate of the 'national living wage', in line with a policy demanded by Labour's new candidate for Mayor of London, Sadiq Khan.
George Osborne's plan to hike the minimum wage unveiled in the Summer Budget would take it to £9 an hour by 2020.
The Shadow Chancellor will say:
"The government's cuts to tax credits are a disgraceful attack on families up and down the country.

"Labour will bring down the welfare Bill, not by punishing the most vulnerable but through supporting a higher wage economy, introducing a real £10 an hour living wage, tackling high rents by addressing the housing crisis and supporting stronger trade unions to drive up pay.

"The IFS have said it is 'arithmetically impossible' for the Government's so called 'National Living Wage' to make up for these loses to ordinary working people.

"It is an outrage that the cuts are being introduced without an impact assessment and that the Social Security Advisory Committee (SSAC) has been denied the explanatory material and evidence it needs in order to properly scrutinise the changes."
The Chancellor's policy will see a 50p increase in the statutory minimum pay rate for the over-25s from April, to £7.20 an hour.
It will then be followed by a series of increases expected to take the rate above £9 an hour by 2020.
The Resolution Foundation, which has long proposed a National Living Wage and was cited by the Chancellor in his Budget, today produced a report predicting that most businesses could easily absorb a rise.
Conor D'Arcy, policy analyst at the think tank, said the total wage bill will rise by just 0.6%, though specific industries such as retail and hospitality would feel the change most.
"Pay rises don't come for free, and the expected rise will take the wage floor into uncharted territory," he said.

"But with the economy getting stronger the vast majority of employers should be able to afford the new higher wage floor, which will allow their lowest paid staff to share in the recovery."